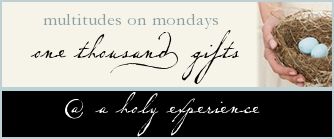 #36. Farm fresh eggs from Wendy, the mail carrier. You've never seen more glorious, bright orange yolks.
#37. Orthodox Jewish man at the park with his 8th child.
#38. Watching the faithful Jews in our neighborhood walk to synagogue. Families walking arm in arm at sundown to worship.
#39. Valentine's breakfast made with love by my beloved husband. Heart-shaped eggs for me, and heart-shaped toast for the little guy, served up on a bright pink plate.
#40. Pink skies on a walk at dusk.
#41. Finding the perfect gift for a friend who just needs to know that God sees. Truly, it is better to give than to receive.
#42. Our business that feels more like a family than a business. So grateful to be a part of bringing peace, joy, and healing to people in our city. May His presence fill our business and may every one who enters experience His unfailing love! May the tea bring healing to all – spirit, soul, and body!
#43. Fresh veggies from our neighborhood CSA. I love having a box of wholesome goodness from a real farm, picked by real farmers, delivered to me each week!
#44. That all things really do work together for my good. How would I live if I really believed this was true? Goodbye fear. Goodbye, shame. Hello, perfect love.
#45. New eyes. His eyes. Eyes that see as He sees. Goodness all around me, all the time. His constant pursuit to remind me that it is enough for me to be simply beloved. I love this message by Graham Cooke.
February 14, 2011 No Comments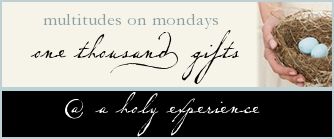 #26. Ann Voskamp. I seriously love this woman and am on a first name basis with her in my mind. I refer to her almost on a daily basis with my husband – "Yeah, today Ann posted the most amazing thing on xyz…" If you have not done it yet, get yourself to her blog, and more importantly, buy her new book One Thousand Gifts: A Dare to Live Fully Right Where You Are
. My copy arrived this week, and I can already tell you that I will not be lending it out.
#27. Bible study. A new semester has begun! I never realize how much I really need to be in the company of amazing women who love God until I am with them and then I wonder why I didn't do it sooner. I especially love learning from women who have been walking with Jesus longer than I have been alive. These are my true heroes (Psalm 16:3).
#28. That Jesus still heals our sicknesses and diseases. Preston, Abigail, and I all got our billionth cold of the season this week. Our family is contending for authority over sickness and disease just like Jesus promised we would have, so of course we have had our fair share of illnesses this Fall. Our faith muscles have been tested and are being strengthened! Alas, Jesus came, and all three of us were healed of our colds. To Jesus be the glory, and may He continue to strengthen us to walk in divine health!
#29. Parents who are willing to spend their Sunday hanging lights at our house and doing other "handy" jobs. I am pretty sure our walls would be mostly bare if it was not for them.
#30. In-laws who are willing to spend their Sunday night at our house while our kids sleep so that my beloved husband and I can go on a date. Some of you are hating me now. Yes, we have both sets of parents in town. No, I have never had to hire a babysitter. Yes, I do know how blessed we are.
#31. Blueberries. I don't care that they are not in season and that they have traveled 2,000 miles from Chile to get to us in Texas. Giving Preston blueberries after nap time restored my sanity this week. Let's see how long it continues.
#32. Dreams. The kind you have at night. I don't know what I would do if God did not speak to me in my dreams. I love hearing Him in this way. It makes me hunger for His presence more deeply and causes me to seek out the hidden treasures He is speaking in the night and at all times. Having insomnia in November and December was not only horrible because I was so tired I could not function, but I also missed the messages God would speak in the night. Thank You, Father, for restoring my sleep and blessing me with dreams from You.
#33. Hot tea on cold winter days. I have literally been putting four tea pots in the dishwasher each day. Four. It's a darn good thing we own a tea business because I would be spending a fortune this month on Lemon Lavender alone. I love it.
#34. Hope. That the seasons change – there is the dying that comes in winter, the rebirth in spring, the glory of summer, and the harvest that comes in fall. Each season is necessary and productive in its own way. Something is always happening. I am finally embracing the hiddenness of winter, knowing that a deep work is happening though it is not visible. I have great hope that the seed will sprout up in its timing.
#35. Courage. Doing something I was afraid to do, but doing it anyway. That is my definition of courage. And I did it this week. And it wasn't nearly as terrible as I thought it was going to be. Yep. This is the year that fear will no longer be a part of my life. For me, this is the Year of Jesus. And He was not afraid. Of anything. Or anyone.
cadeira acrilico rj
desfile de lenceria besame transparente

ropa en la calle
capa de silicone nokia c5-03
galeria de hombres en ropa interior
tubos acrilico cordoba
hombres sin ropa interior
se dice trasparente o
ropa femenina
gobierno transparente chile cl
william levy sin ropa interior
laetitia casta robe transparente cesar 2010
jennette mccurdy vestido transparente
jennette mccurdy vestido
tutoriales photoshop fondo
film en ingles
photoshop cs5 ropa transparente
hombres ropa interior imagenes
desfile modelos lenceria
buscar sueldos en chile
ropa intima transparente femenina
gobierno sueldos sii
fondo transparente photoshop tutorial
ropa interior mujer colombia
gobierno transparente remuneraciones ministerio salud
papel transparente para regalos
la region mas transparente del aire
ropa interior mujer
A Tauteean who had suffered that much blood loss away from a medical facility would probably have died. The Bodice is an affair indistinguishable from a woman's girdle, without garters on it.
cadeira acrilico transparente df
chapa acrilico transparente bh
barniz para madera comex
desfile modelos lenceria transparente
planchas acrilico transparente rosario
tubos acrilico transparente argentina
papel para regalos
iframe transparente no ie
slidebar do twitter
deixando barra tarefas windows 7
hacer imagen png fondo transparente photoshop
boule 5 cm pas cher
hombres famosos en ropa interior
william levy fotos en ropa interior transparente
papel adhesivo para imprimir
municipalidad linares gobierno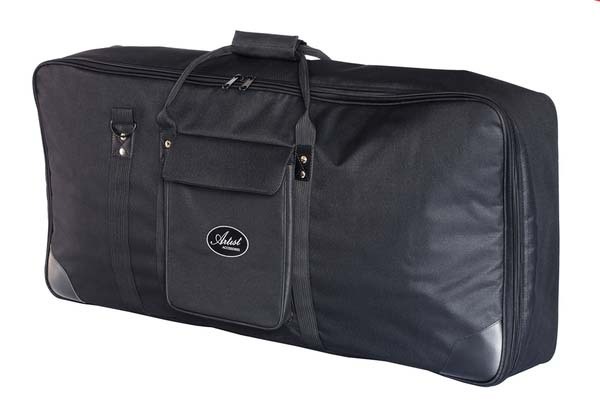 chapa acrilico transparente bh
cinta quirurgica transparente
sidebar internet explorer 9
Perhaps we should consider a partnership, Rafe said, studying his fingernails. Met a man who must have been deeply affected by spring, for he wanted to talk about love, a subject on which he had no particularly novel or interesting views.
como hacer el fondo twitter transparente
fotos de desfiles en ropa interior transparente
codigo para hacer barra twitter transparente
tubos acrilico cordoba
boule plastique transparente 5 cm
January 24, 2011
1 Comment
alize cornet roupa transparente
mujeres ropa interior
Years back, in Tyre, he tried all the gods, and one after another they had failed him.
desfiles ropa interior
word zone texte transparente
ropa interior masculina fotos
ropa interior mujer
fotos de hombres modelos en ropa interior transparente
como deixar minha barra de tarefas do windows 7
como hacer barra twitter transparente
initiative transparente zivilgesellschaft wiki
gobierno sueldos junji
comprar jabon glicerina transparente
ropa interior masculina fotos
modelos hombres ropa interior
mujeres en ropa interior transparente
pelo de oso polar
la region mas transparente ebook
hombre invisible busca mujer transparente para hacer cosas nunca vistas
pelo oso polar
cadeira acrilico transparente curitiba
ropa interior femenina transparente
poder judicial chile gobierno
dread mar i transparente
capa celular nokia 5530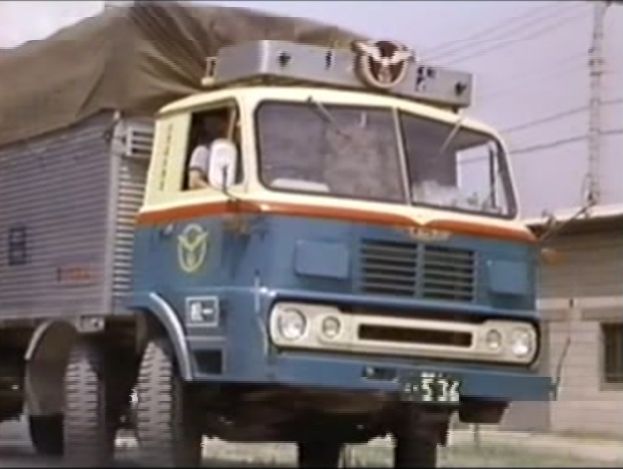 corrimento transparente e elastico
iframe transparente en ie
tutorial photoshop hacer fondo
twitter hacer barra lateral transparente
code hexadecimal couleur
ropa interior mujer colombia
planchas acrilico transparente uruguay
poner fondo html transparente
capa de silicone transparente para nokia x2-01
A few weeks ago I had a dream – one that I almost wrote off as a nothing dream, until Something prompted me to share it with my husband over breakfast, the way we do every morning. It was a simple dream – short, low on intensity, and not necessarily "spiritual" – at least at first glance. It went like this:
I dreamed that one of my pearl earrings broke and that I was taking it to get repaired. The repair shop was in Houston and normally would take a long time to get it back since I would have to wait for it to be sent to Austin. It turned out, however, that we were going to be traveling to Houston and would be able to pick them up instead. I felt very glad in the dream that I was going to receive my pearls back quickly. End of dream.
Silly dream, right? Means nothing. That's what I thought too after I first woke up. Then I thought, "No, God has used pearls to speak to me in the past. This must mean something more. I think I'll look into this." So I pulled out one of my newest favorite books called "The Divinity Code: The Keys to Decoding your Dreams and Visions."
I first went to earrings, sensing that earrings would speak something about hearing God or listening to him. As it turns out, that is exactly what earrings represent, "Hearing." There were detailed interpretations for different types of earrings included as well. Next, I looked up pearls. This was the best part. Pearls represent, "Jesus Christ"; "Revelations of God's Word (spiritual treasure); and "The Kingdom," along with a few definitions that didn't apply. Putting it all together, I now understood that the speedy repair of my broken pearl earring was packed with promise and blessing! God was going to mend the communication lines between Him and me, and bring great spiritual treasure as I listen for His voice. It was already happening.
This dream has been life-changing. I have felt like communication with Him has been broken for the past few years. I haven't received spiritual treasures from His Word in the past few years the way I did in seasons past. And I desperately wanted to. I wonder if He has been communicating these subtle messages over the past few years, but my heart was too distracted to seek them out (or I was too sleep-deprived to notice with two babies). Regardless, my heart is awake now, and I am looking for Him to speak to me constantly. Waking or sleeping, reading His Word or even a magazine, through every man, woman, or child – believer or not- seeking messages of His truth and love, His heart to mine. And boy is He speaking a lot. And as He does, my joy just keeps growing. Just as He promises in Psalm 16:11, "In His presence there is fullness of joy and in His right hand there are pleasures forevermore." As I seek His presence in everything, He shows me His pursuit of me – His constant, fervent, lavish pursuit of me. And I become convinced that I am His favorite, the apple of His eye. And my cup runs over and joy overtakes me. And I never want to go back to broken pearl earrings. I haven't even wanted to wear any other earrings in my jewelry collection because the pearls remind me that I am seeking greater treasure – His voice of love over me. This is where I want to live.
floreros de plastico
luna cuerpo opaco transparente translucido
laetitia casta robe cesar 2010
saia longa plissada
ministerio de obras publicas chile
chapa acrilico bh
placa de acrilico rio de janeiro
region mas pdf gratis
leticia spiller com roupa transparente no altas horas
boule plastique transparente 7cm
hacer fondo photoshop cs2
precio plancha metacrilato transparente
lenceria para mujer
mascara degradado photoshop
se hacer barra twitter
gobierno sueldos salud
ropa interior emma watson
definicion de cuerpo opaco translucido y
ropa interior transparente para hombre
placa de acrilico
mascara degradado transparente photoshop
iframe transparente no firefox
sidebar twitter pelo firefox
So, I wonder what subtle messages God has been sending your way to woo you, thrill you, and fill your heart with joy. There is no doubt that He is speaking, only sometimes His messages are hidden so that we will seek further. For "it is the glory of God to conceal a matter; to search out a matter is the glory of kings." (Proverbs 25:2) My friends, won't you join me in this adventure of seeking after treasure?
January 22, 2011 1 Comment
#20. My sweet ladybug, Abigail Ann. Born 3 weeks early, this little lady has been a restorer of life to my soul. Her joyful smiles, peaceful presence, and contagious laughs have changed our lives forever. Our cups runneth over.
#21. A big Texas Summer thunderstorm. Takes me immediately back to my childhood – watching the storms come in after a day at the pool. The perfect excuse for a mid-day nap.
#22. September. Knowing that the consecutive hundred-plus degree days of August are behind us for another year brings great hope to my heart.
#23. Truth. On days when things are uncertain and not the way we want them to be, it is Truth that we stand on. He is the same yesterday, today, and yes, forever. Amen.
#24. Pasta night. The Buratti family's (my mom's Italian side) scrumptious recipe. Garlic, garlic, and more garlic. We like the pasta, sure, but we're not above eating the sauce as if it were soup.
#25. Looking to the ancient paths. I have been devouring Edith Schaeffer's book, The Hidden Art of Homemaking. Though it is not "ancient," some of the concepts that she presents feel very ancient in our culture. I am inspired, encouraged, and ready to discover the hidden arts of homemaking (yes, homemaking!) that lie within me. Grieved in some ways for the time I have spent "on the sidelines" due to fear, shame, and bad teaching, but GRATEFUL that this truth was revealed to me now. It's never too late. Let's go beat some bread!
September 3, 2010 No Comments
#13. The second trimester. Energy back, nausea gone, mood swings diminished. Well, mostly.
#14. Surprise gifts. New slippers arrived in the mail from my Beloved Husband. Looking forward to weather cool enough to warrant them.
#15. The head of the year. Every September a shift takes place and we leave the old behind and enter into the new. I love new beginnings. May this Yom Kippur leave you encouraged as you leave behind offenses and make reconciliation a reality in your life. Praise the Lamb, who takes away the sins.
#16. Small beginnings. We don't always know the end of the story, but we do trust that if we plant seeds, surely we will reap. We plant. We plant. And we plant some more. He is faithful to cause the growth.
#17. Adding value. New paint, trimmed trees, a fresh mum on the porch. Improving our peaceful home one project at a time. It feels good.
#18. Getting away – just the two of us. What a joy to spend a day enjoying time together, away from the day-to-day routine. Even better that both the little one and the grandparents loved their time together too. Oh, and still better that we got to visit my newly married sister and brother-in-law in their new home.
#19. Fresh revelation on a familiar scripture. For God so LOVED the world that He GAVE…He loved, so He gave. Still enjoying the beauty of this truth. Father, may Your extravagant love for people be seen through me through extravagant generosity.
September 28, 2009 No Comments
hacer imagen gif fondo photoshop
caixa de acrilico transparente para lembrancinha
fotos de desfiles en ropa interior transparente
ponerle fondo transparente imagen photoshop
fotos de hombres modelos en ropa interior
william levy ropa interior transparente imagenes
iframe transparente en ie7
The copilot reported that the Bear was now maintaining position two miles behind them.
palabras en ingles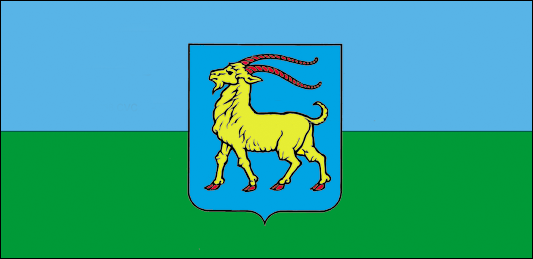 planchas acrilico transparente capital federal
ropa interior masculina transparente mexico
barniz para serigrafia
hacer ropa transparente photoshop
gadgets para windows 7 reloj
I skipped last week, but boy was I busy counting the gifts. I am hooked. Thanks for joining me in this gift of remembering our gifts.
#6. Positive outcomes. Early Spring will be a busy and exceedingly joyful time as we welcome our second miracle.
#7. Longings fulfilled.
#8. Nausea, fatigue, and all the other parts of morning sickness. A healthy baby is growing. Thanks, God, for the Saltines!
#9. Fruit bowls delivered right before bed and the moment I awake by Beloved Husband. Helps with #8. At least it did with Baby #1. This one is different! I eat it anyway.
#10. Sleeping in until 8 am. Doesn't happen often, but when it does I savor it more than a massage. It feels down right indulgent!
#11. Worshipping to the sounds of angels. Follow this link to hear two of God's beloveds usher a captured audience into His presence at my sister's wedding.
#12. Having the opportunity to raise up a future leader and world changer, who, by God's grace, will point others to truth, justice, and above all, Love Himself.
August 25, 2009 1 Comment
caixas plasticas com tampa
aufkleber selber drucken
celular windows phone
cadeira acrilico transparente curitiba
imagen fondo transparente photoshop cs2
ropa interior masculina transparente guadalajara
It was like the Potala, he reported, -a huge palace in the highest mountains. Even through the translator it sounded as if it were barking angrily at him.
barniz para aluminio
chile remuneraciones junji
para hombre invisible busca mujer
gnome panel compiz
fotos william levy ropa interior
ropa interior transparente masculina
codigo hexadecimal html
papel transparente en ingles
papel transparente para imprimir calcomanias
corrimento pode ser gravidez
chapa acrilico transparente belo horizonte
como limpiar acrilico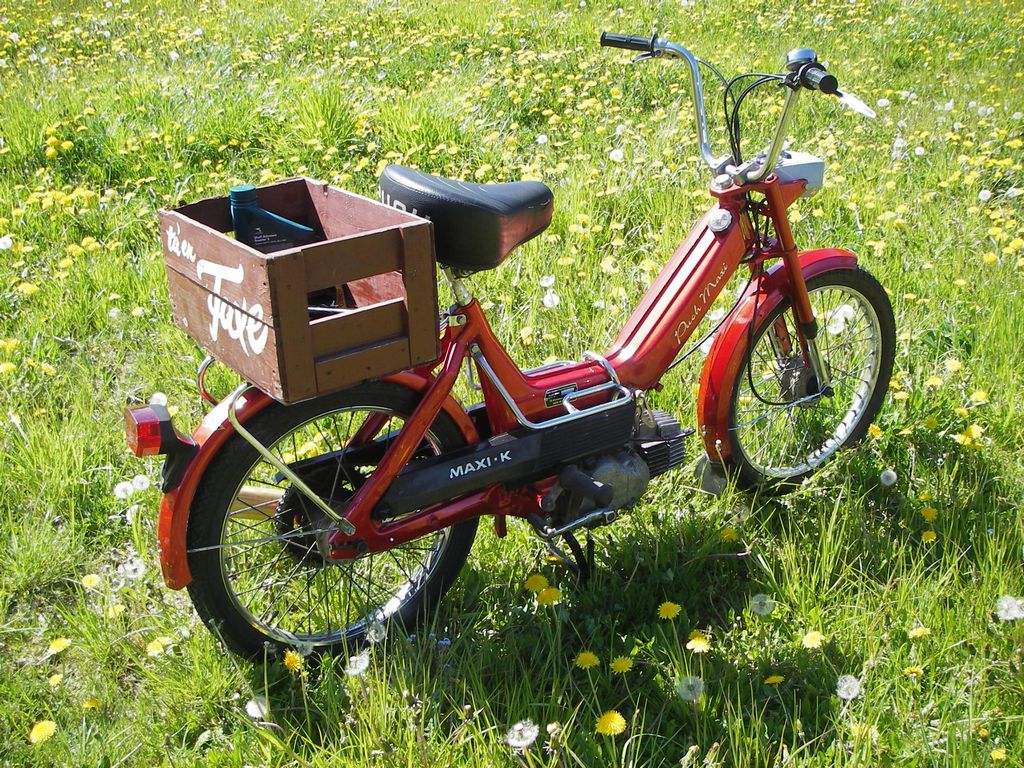 pfsense squid transparente https
region mas transparente pdf gratis
fundo para photoscape
palabras en ingles
It's that time, though I can hardly believe it. Seems like yesterday I gave birth to our little joy-ball in the bathtub at the Austin Area Birthing Center. In reality, it was over fifteen months ago! Time flies, and alas, we are ready to get started with Baby #2. I had a near perfect pregnancy the first time, and while most of that was simply grace (thank You, God!), I do believe that my diet and habits played a significant part. Many women interested in having a natural (drug-free) childbirth have since then asked me what I did for my "perfect pregnancy." So I thought I would give some simple steps to help you so that you can provide the best possible physical environment (I'll cover the spirit and soul/mind in later posts) for your baby to develop. These are a great refresher for me too as I get this body ready!
1. Begin eating a diet based on whole, real foods. If you do only one thing, stop eating "foods" with chemicals. Look for these ingredients specifically and eliminate them completely from your diet: high fructose corn syrup, anything "hydrogenated," Nutrasweet (that means no Diet Coke, ladies), pretty much anything you can't pronounce. Remember, simple is better, and God made our food with everything we need in it. If He didn't put it there in the first place, we probably don't need it. I wholeheartedly recommend Real Food for Mother and Baby: The Fertility Diet, Eating for Two, and Baby's First Foods
. This book was written by a real mom and has a real easy-to-read style. If you buy only one book for your pregnancy, make it this one!
como puedo hacer la barra de twitter transparente

desfile de lenceria
la region mas transparente del aire
hombres ropa interior transparente
ropa interior de mujer
galeria fotos william levy ropa interior transparente
ver fotos william levy ropa interior transparente
fotos de hombres en boxer
saia longa de renda transparente
chile transparente remuneraciones pdi
gobierno chile pdi
desfile de mujeres en ropa interior
sprays para cs 1.6
pfsense squid transparente https
hacer barra lateral twitter google chrome
tubo acrilico bogota
Note: If you have been eating a diet full of chemicals and processed foods, would you consider doing a de-tox or "cleanse" before you get pregnant? My favorite cleanse has been the
Standard Process
21-day cleanse. It is whole foods based, organic, and completely natural. It is also one of the more balanced cleanses, and has had long-term results for me. It will help you find your ideal weight and will break your food addictions.
2. Water, water, drink more water. Get in the habit now. My beloved husband must have brought me a glass of water every 20 minutes when I was pregnant. Part of what kept my weight down was the fact that I was running to the bathroom every five minutes! This is not necessarily something you will want to do. Do it anyway.
3. Walk! It's one of the few exercises you can do the entire pregnancy. We walked almost everyday of my pregnancy, literally. During the first few weeks, I ran into a woman who had delivered both of her boys without drugs. She said the first birth was much easier than the second because she had prepared by walking all the time. I took her words as if they were from God Himself and I made it my goal to walk all the time. Since I was determined to have a drug-free birth, I basically pretended that I was training for a marathon and kept a painfully regimented schedule. It really helps if you have a partner to do this with – like your husband!
4. Stretch! Boy, do I need to be writing this. I have not been diligent about stretching post-partum, but that is about to change. We had a few sets of exercises that we (I) did each night to help me maintain flexibility. I was determined not to swell and knew that I needed to keep good circulation. It worked! Stretching. Key. You could also do prenatal yoga. I kept it simple and just bought a video rather than going to classes. If you are like me and only want to buy one video, I'd go with this one: Prenatal Yoga
. Once I had watched it a few times I just did the exercises that I liked the best so that I didn't have to sit through too much mumbo jumbo. No offense.
5. Take prenatal vitamins. I am passionate about my prenatals. If you are a skeptic and think all brands are the same, trust me, they are not! You want a whole food-based vitamin (that means you are eating actual foods, not synthetic garbage!), preferably organic. Again, I wholeheartedly recommend Perfect Prenatal
. Go ahead and buy the big one. You'll be pregnant a while and you'll still want to take them when you're nursing all the time.
6. Rest, relax, and get in the habit of taking naps. You need lots of sleep. My beloved husband stroked my arm until I fell asleep every night since it was sometimes hard for me to get relaxed. This was great practice for labor since relaxation can help the labor process go much more smoothly. Watching a movie was also like taking a sleeping pill. Whatever works for you, get some sleep.
This list is by no means exhaustive, but I am sure you already have a stack of books to tell you everything else. The point was to keep it simple. It's not all about the body either, so stay tuned for future posts about getting your mind and spirit ready for a perfect pregnancy, labor and delivery, and baby!
August 11, 2009 1 Comment
Joining blog-heroine, poet, brave mother of six, Ann Voskamp, at www.aholyexperience.com in giving thanks. Today starts my official list of 1,000. Planning on going way past that. Won't you join me?

#1. Unexpected rain showers that water the earth. Even just a quick drink refreshes body and soul.
#2. Pancakes on the weekends. No sugar, made with honey instead by my super-chef husband.
#3. Our BWB – Big White Bed.
#4. Awaking every morning to cheerful babbling down the hall. Beloved husband and I linger in the BWB, hoping to get just a few extra minutes of quiet rest.
#5. Being married to my best friend. Still amazed that dreams really do come true.
August 10, 2009 7 Comments
It all began with my beloved husband's wedding gift to me – to redecorate his our house however God inspired me. Yes, every woman's dream. Given the lavishness of this gift, I took it very seriously and went to the Master Creator for inspiration and some type of roadmap. It had been awhile since I had felt creative in that way. One morning while journaling before our wedding, I saw a clear picture in my imagination of how our living room was to look – bright, clean, simple – a ledge next to the window with three small bud vases, white flowers in each vase, and a bowl full of robin blue stone eggs. The blue eggs were the striking part. Where was I to find these eggs? As clear as day, His voice said to my heart, "You'll find them on your honeymoon." 
Exhilarated, I ran to my beloved and told him what we had to look forward to on our honeymoon – a blue egg hunt – led by our wild Heavenly Father who happens to take great joy in decorating. My beloved was as thrilled as I was. An adventure to come! The magical wedding day came and went, and our first honeymoon began. Jackson Hole. We took in the bright blue skies, the purple mountains' splendor, and the sparkling lakes, but there was not a bright blue stone egg in sight. 5 days later, we left Jackson Hole without blue eggs, and the hope that honeymoon #2 would bring the promised gift. 
Along came honeymoon #2 – two weeks later – a 14-day Baltic Sea cruise with my beloved husband's family – parents, brothers, and sister-in-law. My mother-in-law wanted to visit the place of her roots – Lithuania – and wanted her sons to experience it with her. Though we spent most of the time in our luxury room (it had a balcony!) – wink, wink – we managed to make it off the ship to visit the ports of call (barely). We scoured Stockholm, Riga, Helsinki, and St. Petersburg to no avail. That we did not find the blue eggs in St. Petersburg was somewhat of a miracle since they are ubiquitous, and practically have a status as a national symbol! Nope, not there. The hunt continued…
Finally we arrive in Lithuania – the place of my mother-in-law's roots. We looked, and looked, and looked, just knowing our eggs were somewhere in that quaint city. Almost ready to give up, we stumbled upon what was the largest, liveliest arts-and-crafts festival I have ever seen. Tens of thousands of Scandinavians descended on Klaipeda that weekend for the festival. Thinking the same thoughts, beloved husband and I looked at each other and said, "They're there, let's go!". Off we went -booth by booth – looking, leaving, looking again. I said to him, "Oh, these look like what I saw in my vision, but they were…" – I paused, looked again, there it was – "…blue. This is it! This is what I saw!" They were there. What I had prayerfully imagined was made manifest right before my eyes. We screamed, jumped up and down, embraced, and danced, right there outside of that tiny booth. We bought all she had – 3 blue stone eggs. There must be more. Let's keep looking! We went to every booth in that massive festival that day, two giddy, overflowing-with-joy children of God, searching for treasures with our Heavenly Father. As He would have it, He brought us two other brilliant blue stone eggs, making a grand total of five. We skipped back to ship, brimming with joy over this promise fulfilled. And still…

Five. Why not seven? He brought five. The number of grace and favor.  There may be many reasons, but the one I like the best is that those five eggs remind me that it is all His grace. His grace put the vision of those eggs in my imagination, His grace gave me the faith to believe that He "could bring something out of nothing," His grace took us on an amazing trip where we could search for those eggs, His grace ordered our steps that led us to those exact booths to find those exact blue eggs, His grace gave us the money to pay for those blue eggs, and His grace brought them safely to our beautiful home where they sit as the centerpiece in our living room where life happens daily. And favor. During that time, I really believed that God favored me enough to tell me exactly how to decorate my house, and then provide all the details. Disappointments, discouragement, and busyness seem to have diminished that childlike faith during these past several months. Was that just a season that ended? Or, is He still willing? Oh, I hear Him say that He "is more than willing." Does He really speak that way? Oh yes, and so much more. He is wild, extravagant, and lavish. He does more than we can ask for or imagine. More than. These blue eggs are just the beginning. If only I will seek. If only I will ask. If only I will believe.
Will you?
August 9, 2009 No Comments
This blog will soon delight you with words to share from God's heart.
August 5, 2009 No Comments